Durite manufactures and is in partnership with other companies for manufacturing of polymers. Acrylic based material polymers for exterior building application is manufactured in Italy. E-poxy for terrazzo floors, Casting, and other Rasin polymers are manufactured through US based companies. Each polymer is engineered differently and has it's own different application. For example not All E-poxy manufacturers produce the same material characteristics. E-poxy polymers can vary from one manufacturer to another, in color( some colors such as black would differ from one company to another) , strength [compressive, tensile(very important for floors) & torsion], set-off period (time for working with the material prior to hardening), air-entrapment (resulting in pin-hole surfaces when dried). It is the knowledge and experiment with product of different manufacturers that enabled Durite to use and manufacture different polymers for casting and direct surface application of floors, restaurant tables, kitchen counter tops, cantilevered stairs and other finished products.
Terrazzo E-poxy Floors
Unlike concrete terrazzo, E-poxy offers superior strength, waterproofing & infinite true colors. Our terrazzo floors are on the high end of design combining unique and exquisite mix of marble, granite, quartz, mother-of-pearls, colored glass, sea shells, glass mirrors and infinite other material possibilities. We work with Designers to achieve the desired look for material used in right setting, creating the proper environment. Our terrazzo floors undergo tremendous amount of sub-floor
work to compensate for thermal movements, eliminate concrete cracks that can travel from the existing structural concrete slab to the terrazzo floor surface. E-poxy filler is used for floor leveling rather than concrete or thin-set mortar mix, and an elastomeric waterproofing membrane is used to buffer the terrazzo from the layer below. Basically our terrazzo floors sits on an independent rigid floor, regardless of the receiving floor, constructed out of concrete, metal-pan or wood flooring. Recent unexpected construction of a new hi-rise adjacent to one of our terrazzo floor projects in NYC on Park Avenue South, resulted in deep excavation and pile driving foundations. Our terrazzo floors survived the poundings without any surface cracks, a true testimony to the strength, resilience and rigidity of our terrazzo floors. This type of work offers quality rather than quantity, making our terrazzo projects selective work. In recent years we have joint-ventured with other terrazzo contractors to assist in providing terrazzo components that are costly to pour and finish on-site. Such as cove-base, stairs, and artistic designs, creating and leading a new era in the terrazzo technology . Durite is currently providing support and assisting terrazzo contractors.
Concrete E-Poxy Flooring
Durite is currently working on introducing The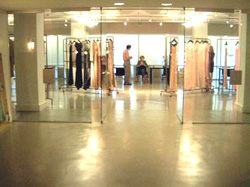 application and system of the Concrete E-Poxy Flooring™ to the floor industry.This highly stylized, smooth, modern,seamless, crack free, slush & water free process has advantages of offering infinite true colors to Designer/Architects. Durite has applied this type of flooring on numerous projectsranging from high fashion designer floors to altra-modern restaurants . The cost-effective economical success along with high esthetics, uniform floor colors and ability to carry the same material to Table-tops, Bar-tops,and wall surfaces, no doubt makes this type of flooring the premiere choice of many Designers/ Architects in the future. Durite is currently providing materials & training, to licensed contractors for proper application of this type of flooring.
Terrazzo Floor Repairs
Many terrazzo floors that were constructed since the early 30's to the post-war era, requires patch repairs and proper maintenance. Durite is constantly requested to match existing terrazzo floor colors and stone aggregates to repair broken floor areas or patch holes, etc. Especially in high visibility areas such as building lobbies and corridors, repairs becomes necessary. In the past, the majority of terrazzo floors used colored concrete cement as a binder with stone aggregates.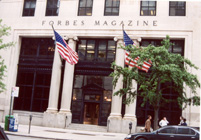 Cement colors changes with each water/cement ratio pour, and only when the cement is dried and hardened the true color can be visible. This repair guess work presents a problem for hit or miss color match to the existing. In general excellent patch repairs are not cost-effective, a small or large terrazzo patch requires mobilization of large cutting machines. In addition, the existing terrazzo surface oxidize and accumulates surface dirt over the years. Once the terrazzo surface is cut for patch repair, the adjacent floor area colors hidden under the old oxidized surface will also be grinned and exposed. Now we have to work with the new exposed colors and match the rest of the old and grim color floor. Obviously this becomes a larger job than a simple repair. Making matters more complicated are repairs of terrazzo cracks and terrazzo disintegration. That may require removal of the surface terrazzo and addressing the crack and joints below. All of the above explains the discontentment of many customers that had experienced terrazzo repairs.
Usually terrazzo samples are sent to Durite for matching the colors binder and aggregates proportions. Durite through spectrum analysis can pre-mix the right amounts and determine the color of the terrazzo binder. Once the final sample is approved Durite can prepare the mix for the applicator. Durite's choice of pre-mixed binder is E-poxy since it offers color stability, fast curing time and hardness(E-poxy is at 12,000psi, compared to concrete at 3,000 to 4,000 psi.


Similar Products