Durazzo™ is a Durite's Patented innovation, for cutting & mapping terrazzo pieces in any shape, form and colors that is "Seamless" (invisible joints, using none -Metalic or other types of Dividers). Terrazzo pieces are bonded together to create the desired image from pictures/drawings or art works.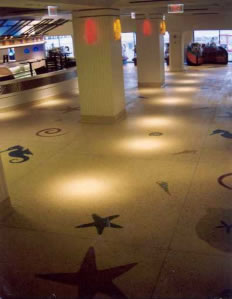 This proprietary process enables the creation of very fine and intricate designs (near jewelry precision) that would not be cost-effective or physically practical to duplicate with metal dividers. Intricate Medallions, Corporate Logos, Design and Figurines of animals, sea life, flowers, and million other imaginable possibilities, can now be produced and embedded in Terrazzo Floors/ Stair Designs/ Counter & Table Top patterns, etc.
The success of this innovation has enabled many top Designers, Architectural firms and Terrazzo contractors to take advantage of design flexibility that was not possible with metal strips, incorporating terrazzo stone art on floor, elevator lobbies, terrazzo front desk furniture and walls.
Similar Products